Where would we be without mentors in our lives?
From the day we are born we rely on mentors. Our parents and siblings are our first mentors. They teach us how to walk and eat and what are the norms and the values of our family and culture.
Then one day, we become adults and we expect do be able to do everything on our own. Although I strongly believe each of us has everything needed to succeed, asking, and receiving guidance and help can accelerate the process significantly.
Mentors empower us! They accelerate our success and help us reach our goals!
Here is the remarkable story of Maria Konnikova, a Russian-American writer and psychologist, who seemingly out of nowhere, has dared to approach the poker legend Erik Seidel for mentorship. Thanks to this smart move, within a year she won a major title, made multiple final tables, and amassed close to $300,000 in live tournament winnings.
Find a Mentor To Get On The Fast Track
In the face of sudden, frightening disease, Maria starts researching the nature of luck and stumbles upon poker. A game that would never have caught her interest quickly becomes her dedicated pursuit.
In just two years, starting from scratch, she beats the luck and makes income she could never dream of during the academic writer's career.

Besides knowing what she wanted to learn, Maria also set a goal to learn it fast. She then knew that the best way to accelerate the learning is to get mentored by someone who is already a successful player.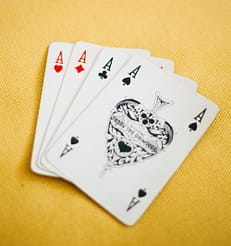 Although totally new in the field of poker, she made a thorough research, just like she would do for the books and the articles she was writing. This is how she determined that Erik Seidel, one of the legends in the poker world, will be her mentor.
Despite the fact that Erik has never had students before, with her academic approach and eagerness to learn, Maria managed to get his attention and commitment.
Personal Growth and Winning Mindset
Maria learned the rules and strategies of the poker game. She got so skilled that she created am additional income stream, an additional business next to her academic career. But more importantly, mentoring catalyzed her personal growth in ways that can serve her entire life.
She learned:
to trust and challenge her thinking and make decisions with confidence, knowing that she can never be completely certain or have all the information needed at hand.
emotional resilience, going for the long term success and not being taken away by a single unfortunate outcome by focussing on perfecting the process and not on the luck.
how to embrace uncertainty rather than fear it, reframing the lack of control into a source of power.
"Anyone can get lucky – or unlucky – at a single hand, a single game, a single tournament. One turn and you're on top of the world – another, you are cast out, no matter your skill, training, preparation, aptitude. In the end, though, luck is a short-term friend or foe. Skill shines through over the longer time horizon." – Maria Konnikova
These are the exact mental skills and winning mindset we need to become successful in life and business.
Meet my mentors
Like Maria, I am am very grateful for the mentors in my life. I would have never thought I am capable of running my own business. Or having the self-confidence to share my views and teachings via blogs and webinars. But then, with the support of talented and experienced mentors, their encouragement and constructive criticism, I excelled at my expectations and created even bigger dreams.
Realizing big and complex goals, like a career change or a business venture alone is close to impossible.
If you are looking to excel and develop your digital marketing, leadership, or entrepreneurship skills, then I am very excited to help you with the choice of trainers and mentors.
Contact me or create a free account with my mentoring community and see if this business world is right for you.
You can create your free account here
Just how much of your life will you take credit for, and how much will you leave to simple dumb luck?

Well, you can certainly take credit for finding the right mentor and make sure you achieve that what matters to you the most!
---
Learn more about the opportunities of creating an online income stream. Achieve financial independence and freedom to live life on your own terms!
---
>> Click here << for a list of books that recently influenced me profoundly and are today part of my body and mind.