I never thought I will be sacrificing the sweetest hour of my sleep, the one before you have to wake up, so willingly. Since the student days when preparing for the exams, I haven't had a reason, big enough, to get me out of my warm and cosy nest earlier than it is absolutely necessary to organize my family and get to work on time.
As life got busier, with two young children and growing my own business on the side of a full-time job, I started noticing that I miss time on my own.
I need moments of solitude to reconnect with myself, to determine my direction, to reflect on life and pay attention to my desires.
The Morning Routine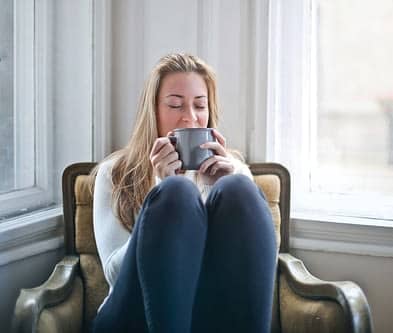 Since the last new year, I introduced a morning routine and so far, I love it! I wake up at 6 am, not so unbearably early, right?
First, I make myself a nice cup of thee, open the doors of my balcony and enjoy for a moment the serenity of the early morning. The light at dawn is always amazing, the birds are singing and there is no traffic noise. At that moment, I often feel connected with nature, with the skies, forgetting that I am living in the busiest part of Amsterdam.
Second, I do a couple of stretches to wake up my body, usually the five Tibetan rites or a series of sun salutations. This takes me only 10 minutes, after which I feel awake and really present here and now.
Third, I continue with meditation. In the first 15 minutes, I clean my head from any thoughts which brings me totally to the present moment, in a content and open state.
In the next 15 minutes, I start imagining my desired future. I try to be as specific as possible.
What do I want my life to look like?
What do I see and hear?
What do I feel when my desires become reality?
I am not that good yet at visualizing and imagining my ideal future. It is difficult for me to envision things beyond my current experience and context. How is that for you?
For the purpose of being the creator of my future, I have decided to persist with the visualization practice.
I sincerely believe that we are the creators of our future. The first step to attract the future we desire is to imagine it!!
In case you have any tips on how to improve on visualizing your future, please share them.
The last five minutes
The last five minutes before I wake up my kids for school, I immerse myself in this state of natural happiness and the peaceful energy I have created with this morning routine.
Claiming this quality time with my own beautiful self has made me be more authentic and engaged with the people around me. I enjoy their presence more, while I know I can count on this dedicated time for myself.
In addition, I have been so much more balanced and motivated throughout the day, that I have decided to keep the morning routine even on the weekends. The good thing about the weekends is that I get not just one, but three hours for myself while the rest of my family enjoys the well-deserved sleep in.
Join
I invite you to join this group I moderate and get connected with like-minded, like-souled and growth-oriented people, like yourself. Although this group is focusing on running an online business to create freedom, a big part of it is about daring to create the future you desire.
I would be interested to hear what is your morning routine? How do you connect to yourself?
Last but not least, what is the future that you imagine?
---
Learn more about the opportunities of creating an online income stream. Achieve financial independence and freedom to live life on your own terms!
---
>> Click here << for a list of books that recently influenced me profoundly and are today part of my body and mind.