With the holidays upon us, it's a great time to think about our most important values and how they shape our lives.
How Personal Values Shape Us
Values are our guiding principles in life. They determine the choices we make and the story we tell if our life is turning out the way we want it to.
We are at the happiest when our core values are in sync with what we do and the way we behave. But the opposite is also true.
Let me illustrate what I mean with an example.
Imagine one of your core values is improvement and learning. But your manager's core value is stability.
You might want to change positions and learn new skills, but your manager, driven by her core value of stability, insists you stay at the current position because you are good at it.

This mismatch in our values with the values of our friends, managers, partners and companies can make us truly unhappy.
Core Values in Your Own Business
If you are running your own online business, your personal values are also your business values. After all, you want to create or work on a business you love!
In like manner, you want to attract customers and partners that share your values, because then your message will be valuable to them.
Make sure your mission, vision, brand and designs clearly communicate your company's core values. In this way, your services and products will speak directly to the hearts of your customers.
Here is a fun and helpful exercise to get you more aware of how companies communicate their values.
It goes like this:
Find a couple of products or brands that you appreciate and love using. Then ask yourself what is the feeling that they give you? Which values do they stand for? What does their brand logo or motto represent?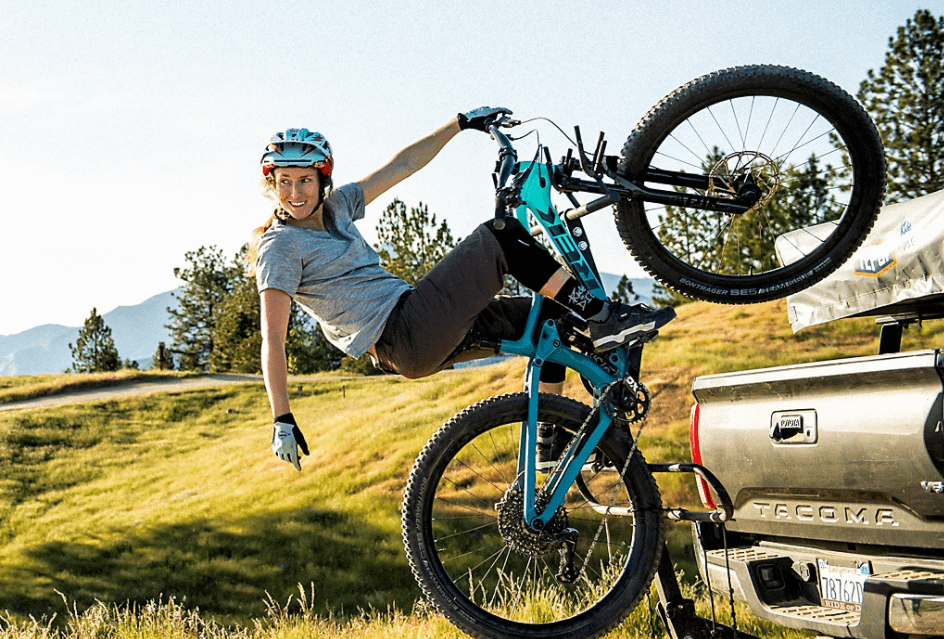 Trek Bikes is a brand that speaks to me because it talks about adventure, exploration and active life. Those are all 3 core values of mine in one product.
When I browse their catalogue I start feeling alive and inspired. I can plan trips that give me a sense of timelessness, freedom and joy.
Their motto is "One customer at a time because that's how we roll." This gives me an idea that this company values quality above quantity. Trek Bikes is more concerned about how great their products and services are than about how much money they make.
I would love to hear your examples of brands and how they make you feel! You can share them here in the comments or in our online business community on Facebook.
Do you know what your core values are?
Determine Your Core Values
You can determine your core values by analysing the moments you have been the happiest in life and work, the people you admire, and the goals you want to achieve. Here is a list that can get you started …
Start by circling the 15 or so values that are most important to you.
Then from this list circle the top 5 and rank them.
Accountability
Accuracy
Achievement
Adventurousness
Altruism
Ambition
Assertiveness
Balance
Being the best
Belonging
Boldness
Calmness
Carefulness
Challenge
Cheerfulness
Clear-mindedness
Commitment
Community
Compassion
Competitiveness
Consistency
Contentment
Continuous Improvement
Contribution
Control
Cooperation
Correctness
Courtesy
Creativity
Curiosity
Decisiveness
Democraticness
Dependability
Determination
Devoutness
Diligence
Discipline
Discretion
Diversity
Dynamism
Economy
Effectiveness
Efficiency
Elegance
Empathy
Enjoyment
Enthusiasm
Equality
Excellence
Excitement
Expertise
Exploration
Expressiveness
Fairness
Faith
Family-orientedness
Fidelity
Fitness
Fluency
Focus
Freedom
Fun
Generosity
Goodness
Grace
Growth
Happiness
Hard Work
Health
Helping Society
Holiness
Honesty
Honour
Humility
Independence
Ingenuity
Inner Harmony
Inquisitiveness
Insightfulness
Intelligence
Intellectual Status
Intuition
Joy
Justice
Leadership
Legacy
Love
Loyalty
Making a difference
Mastery
Merit
Obedience
Openness
Order
Originality
Patriotism
Perfection
Piety
Positivity
Practicality
Preparedness
Professionalism
Prudence
Quality-orientation
Reliability
Resourcefulness
Restraint
Results-oriented
Rigour
Security
Self-actualization
Self-control
Selflessness
Self-reliance
Sensitivity
Serenity
Service
Shrewdness
Simplicity
Soundness
Speed
Spontaneity
Stability
Strategic
Strength
Structure
Success
Support
Teamwork
Temperance
Thankfulness
Thoroughness
Thoughtfulness
Timeliness
Tolerance
Traditionalism
Trustworthiness
Truth-seeking
Understanding
Uniqueness
Unity
Usefulness
Vision
Vitality
Examples of Core Values
If you need more thinking time then do the why game.
Furthermore, you can put your values into action by transforming the nouns into verbs as suggested by the Why Guy Simon Sinek.
Here are my Top 3 personal values that I am conveying in all my work, including the digital business I own Inspiration4life:
Dare to explore roads less travelled: Adventure, Fun, Excitement, Curiosity, Change, Motion, Courageous
Create the circumstances where you can be yourself: Autonomy, Freedom, Independence, Broad-minded, Honesty
Increase impact by improving and learning every day: Ambitious (Achieving significance, live your full potential, having an impact, providing value, success)
Your turn now!
Watch the video for an explanation and take action!
Ultimately, don't forget to give yourself the gift of investing in your own personal and professional development as often as you can. And it all starts with getting to know yourself and your values better.
Happy Holidays!
---
Learn more about the opportunities of creating an online income stream. Achieve financial independence and freedom to live life on your own terms!
---
>> Click here << for a list of books that recently influenced me profoundly and are today part of my body and mind.