Many of us have plenty of marvelous dreams, but often we do not put work into making them become reality. The dream come true process is not rocket science, it requires some discipline and persistence, but it can be learned.
I know this for sure because anything we see around us has started as an idea, as somebody's dream. Somebody, who believed his dream can become a reality, did all it takes to make it happen.
We have the amazing power to create things out of nothing, out of an idea, a thought. And luckily this process is well explained nowadays and we can all learn to apply it.
Visualization
One technique that will certainly help you in this process is visualization. You probably are already familiar with it through the teachings of your favorite spiritual leader, personal growth mentor or business leadership coach.
Visualization technique can help you:
Envision the final goal and strengthen your belief in achieving it,
Identify the resources and actions you will need to take to succeed,
Keep motivated to strive for your goals and dreams.
Visualization has this effect on us because apparently our brains can make no difference between dreaming, imagining or stuff happening in reality. The sensory experiences of the dream or the visualization can be just as convincingly real.
Here is some scientific proof from Psychology Today, if you don't believe my words 😉
I decided to try it myself and finally go for the spacious house on the top of a cliff overlooking the Mediterranean Sea in the south of France. Something like the Bubble palace of the famous French fashion designer Pierre Cardin.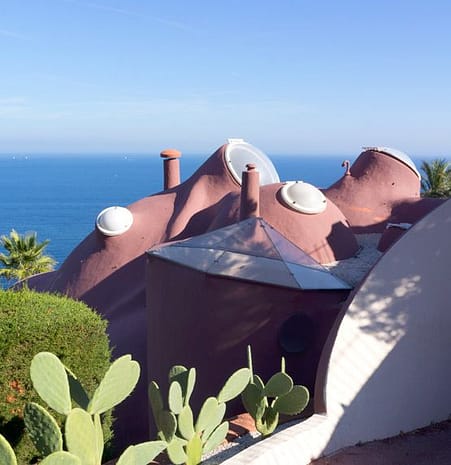 The devil is in the detail
Let's do it. Get yourself in a comfortable space without distractions and think of something you want to have or achieve. Now, start mentally imagining it as if it has already happened. Stimulate your imagination by asking questions like, how does it look like? Which colors and patterns do I see, what do I smell, how do I feel knowing that I have achieved my goal? Who is around me, what are we talking about? The more detail the better.

Actually the word visualization doesn't cover all the aspects you include while imagining. It is not only about the visual part. You need to include all the other senses, the movement and your global state of being. It is more of a mental projection in time and space, but that might sound like science fiction, so let's stick to the word visualization for the sake of simplicity.
Back to my goal of living in a house by the sea. Every morning in my 15 min visualization slot, I imagine myself waking up, going outside in the garden and checking the calmness of the sea. I do my yoga exercises while being caressed by the gentle breeze and the warm Mediterranean sun. I synchronize my breath with the sound of the waves. I become one with the nature around me and the feeling of calmness and joy runs through my whole body.
Before I start working in my spacious living room, with the glass doors open to the sea, I take pleasure in smelling each of the plants I have personally planted in my garden: the pine and the fig tree, the rosemary and my favorite at the end, the agapanthus azur.
Is it easy?
I wouldn't say it is, but it can be very empowering and rewarding. Imagining beautiful things and daydreaming sounds like fun, but that is just the beginning. To progress in the realization of your goals, you need to be disciplined, create a routine, hone your skills of imagining more detail, especially for difficult goals, which might feel like mission impossible from this perspective.
If you are anything like me, visualizing isn't your natural skill. I get distracted very quickly and start wandering off to random thoughts or the todo list of the day ahead.
Luckily, this book "How to get lots of money for anything Fast!" by Stuart Lichtman contains a well-structured technique that helped me learn it, much like driving a car.
Don't get turned off by it's cheesy, over the top title. It is an easy read, a great, practical manual in setting up goals, designing the solution and monitoring the progress.
One final tip, do not keep your plans and dreams for yourself. Talk about them with your friends, your community and mentors. In this way, they will soon become part of your reality. There is nothing to be ashamed of in wanting to create the life you love! Go for it!
---
Learn more about the opportunities of creating an online income stream. Achieve financial independence and freedom to live life on your own terms!
---
>> Click here << for a list of books that recently influenced me profoundly and are today part of my body and mind.