Are you stuck in an unfulfilling job because you think you are too old to start something new?
Or maybe the pandemic has made your employment uncertain and you are dreading to face the unfair, age discriminating job market? 
Do not despair or just wait for the circumstances to magically change. Instead, read this article explaining the 3 basic steps you can take to start your own business around the things you love doing anyway.
Investing just one hour per day can change your mindset from employee to entrepreneur and put you in a much better financial position a year from now.
"The secret of getting ahead is getting started" – Mark Twain
Step by step this is what I suggest.
Step 1: Find Out What You Want
If you are anything like I was, working for a boss almost all my life, then you are used to thinking about how well you fit in a certain job description. But for this exercise, I want you to start thinking not about jobs but about who you are as a person.
Skills
What are the skills that you want to be using, the skills that you want to develop, and the skills that are you good at?
For me, this ranges from connecting people from different disciplines and cultures, being in the focus by presenting, facilitating conversations and brainstorming sessions, writing as in journalism to journaling, blogging, and sharing my life experience.
"I want my work to be as connected and aligned with who I am as my free time is!" – Albena Georgieva
Get a pen and paper and start noting them down.
What is important to you?
Next, consider what aspects of the work are important to you.
Do you like variety? Do you want to specialize or prefer to keep an overview as a generalist? Does outdoor work make you happy? Do you prefer solo work or want to be part of a network or a team? Are sustainability and environmental responsibility important motivators for you?
What makes the work meaningful for you? Do you value autonomy?
Young people are usually bolder when it comes to change, so we can take some advice from them:
Tap into your interests, skill sets, and values to Imagine the future that you want. This is the first step in defining your new business, your new life.
Step 2: Determine What You Need
Once you have carved out a few domains that ignite your interest, consider what it's going to take to transition to one of them.
Which new skills do you need to learn? Which new contacts do you need to make?
Accelerate by finding people who already know and do this line of work. Interview them or even better, ask them to become your mentor.
Although I strongly believe each of us has everything needed to succeed, asking, and receiving guidance and help can accelerate the process significantly. I have written more on the important role of the mentors here.
Perhaps you can set some budget aside this year to invest in yourself. Due to the pandemic, we can not travel. So why not use the holiday money to make the move towards entrepreneurship, new insights, and skills, towards a more confident and free person that you want to become!!!
In the current economy where our lives and businesses are going through a digital transformation, I strongly suggest you invest in your digital skills.
Check the free webinar of my mentor Stuart Ross to learn more on the opportunities to create a fulfilling work by leveraging the digital economy.
New technology is not that different from what you did previously. The only difference is it's simply digital, easier to access, and can make it easier to collaborate with others.
Learning to share your interests and provide your intellectual services or physical products online can be one of the most valuable skills you can get to become more independent and secure your future. The post-COVID-19 world is digital and education has never been more affordable and personalized than today.
Step 3: Make a concrete and actionable plan
The first two steps are very important, but without taking action, nothing will ever change. Steady and persistent action is key to success and discovering what works and what doesn't work for you.
Many people have great ideas and know exactly what they want, however, they lack the discipline and the support needed to take persistent action to realize their dreams.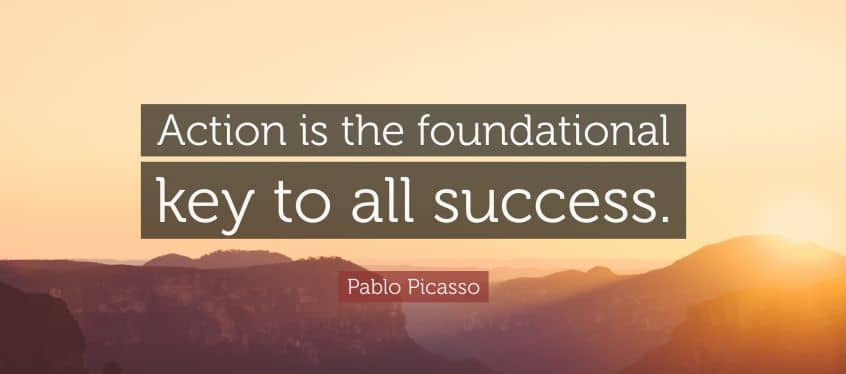 Without further delay, create a plan based on the input and ideas you have generated in the previous steps. vision. Think of short term (this week), mid-term (this month), and long term goals (this year).
Translate your goals into measurable actions with concrete dates. See which contacts you need to make and when. Put the dates already of the training, courses, and webinars you want to attend.
Creating as concrete and detailed plan will help you envision your future. It will also serve as motivation to take action when the going gets tough, by reminding you of the pleasure and satisfaction of reaching your goals.
Conclusion
We are going through challenging times but our experience and age can be our ally. Follow the 3 steps above to envision your new life. This takes time and patience and it is the road less traveled, yet so rewarding and brave to invest in building the future you love.
With just one hour per day, on the side of your regular job, you can build a better understanding of yourself and the confidence to start a business you are excited to work in yourself.
Stop trying to fit in someone else's job description. Get on the driver's seat and start making use of all the talents and wisdom you have accumulated with time.
---
Learn more about the opportunities of creating an online income stream. Achieve financial independence and freedom to live life on your own terms!
---
>> Click here << for a list of books that recently influenced me profoundly and are today part of my body and mind.